Casual Open Tennis
Casual Open Tennis is a compact easy-to-play 3d tennis game that allows you to enjoy sensibly realistic casual tennis singles matches vs. computer opponents. The app features an advanced ball hit detection mechanism (well-synchronized with player-character's motions), which brings you highly intuitive and precise racket control-ability necessary to beat opponents by your diverting wining-shots through breathtaking stroke rallies.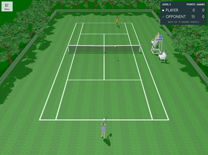 Casual Open Tennis Special Match Rules
Match type: Ladies singles, 1 set (best of 3, 7 or 11 games) match.
Match winner: A player who wins 2(of 3), 4(of 7) or 6(of 11) games first wins the match straightforwardly*.
No court end change: Players shall not change court ends throughout a match.
First server: Human player always be the first server (due to miraculously good luck on toss).
*Close set rules (tie break set or advantage set rules) shall not be applied.
Match Levels
There are five difficulty levels; from easy Level1 to expert Level5. Higher levels are initially locked. By beating a opponent in a level, the next level is to be unlocked.
Court Types
You can choose a match place among six tennis courts sited in various scenes; [1-3] Abstract Blue/Red/Green*, [4] Clay-Court, [5] Hard-Court or [6] Grass-Court. Each court has slightly different surface characteristics.
*Abstract courts are simple courts of minimal design, that were made to reduce consumption of computer resources during game play. If you play the game on your unplugged mobile device where battery life matters, abstract one is recommended.
Player Types
The visual of player character can be changed by selecting a color-set (wear, skin & hair, shoes, visor, racket etc) in dozens of predefined color themes. And you can also choose play-type in right-hander or left-hander. With a paid service, you can alter racket-swing-forms of ground strokes (forehand-stroke: closed-stance or open-stance / backhand-stroke: single-handed or double-handed).
Documentation
Appendix
If you'd like to know about the app further in details, please watch the movies: Casual Open Tennis - Exhibition Match.